Project Simplify Health has no paid management or staff.  We rely on good-hearted individuals just like you to help move our banner forward – by joining in a grass-roots, boots-on-the-ground, community-wide effort.  If you are interested in supporting us and becoming part of the solution, please assist as able in the following ways: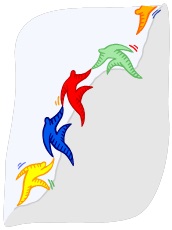 If you are a Food Product Manufacturer, prepare healthier foods and label them with their 4◊Score.
Contribute to our database of food and menu items that contains a listing of "4◊Scores."
Help us develop a mobile app (or donate funds to have one created).  Imagine being able to look up any food or menu item's 4◊Score, which will assist you in making healthier eating choices!  We also want to be able to enter and track our progress on The 24/7 Diet.
Spread the word, join the charge,

like us on facebook

, and

Sign the Petition!

Website enhancement
Media exposure and public awareness
When you see something in our database that does not appear to be accurate, let us know.
As soon as we are set up (we are working on this), monetary donations (sponsorship levels below).
E-mail us if you are interested!
Club/Sponsorship Levels:
Diamond Dwarf Pea ($1,000,000+)
Platinum Potato ($500,000+)
Rhodium Rhubarb ($250,000+)
Gold Guava ($100,000+)
Emerald Edamame ($50,000+)
Sapphire Strawberry ($25,000+)
Silver Spinach ($10,000+)
Ruby Rice ($5000+)
Pearl Papaya ($2500+)
Topaz Tomato ($1000+)
Coral Carrot ($500)
Bronze Broccoli ($250+)
Crystal Cranberry ($100+)
Mercury Mushroom ($50+)
Silk Squash ($25+)
Rose Raspberry ($10+)